Do you trust these Jew charlatan propagandists?...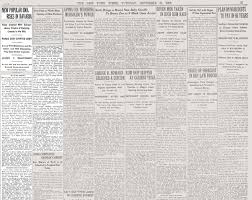 New York Times November 21st 1922: Left column is said to be the first published comment on Hitler in the New York Times. Why the publicity? Why the remark that he was merely using anti-Semitic propaganda as a bait to catch masses of followers ?
Note: Were the leading 'Nazis' Jews? Did Jews Control the NSDAP?
27 Nov 2017

Was Hitler a Jewish Agent?
(c 55 mins audio). Filename is 2018-01-08-rerevisionist-was-hitler-an-agent.mp3
The first detailed presentation known to me—there must be others—of this startling idea, is a set of pdfs in Miles W Mathis' website; www.mileswmathis.com/hiller.pdf is the principal document, which in Mathis' opinion shows from genealogical evidence that the leading 'Nazis' including Hitler, Eichmann, Hess, Goebbels, and Himmler were all Jews. Other papers by Mathis include revisionist looks at Mussolini and, in particular, Lenin and other Jewish Bolsheviks.
Mathis' papers include re-examination of such events as the beerhall putsch, and Hitler's alleged jailing and release. I'll give a simple outline in a few paragraphs, for those who haven't read his works.
I now think there's a lot to be said for this view.
As a start, here are a few odd Jew-influenced events—not intended to be exhaustive!—suggesting Jewish policies were applied through the entire period:
• Before 1933
The 1913 control of the Federal Reserve by Jews; war fanned by suffragettes; war declared by (((Britain))), and entry of the USA after Balfour; Jew takeover of Russia; unexplained stasis in the German war, possibly caused by a supply or finance problem; Versailles and its setting up for future conflicts; vast USSR violence and copied technology kept secret.
The starvation following the naval blockade, war deaths, and rumours or facts about Jewish activities during the war, led to huge unrest, and many political parties, of which arguably Hitler's Workers Party was the least 'extreme'. It may may have been controlled, and its leaders were rich.
• 1933-1945
The entire period can be interpreted as Jew pursuing their policy of money control and purchase of worldwide assets, combined the policy of maximising goy deaths. This continued irrespective of war: 'holocaust' fantasy was old, dating before 1900;
Coudenhove-Kalergi
(non-Jew puppet) dated from about 1923; Hungarian and German hyperinflation and the 'Great Depression' show Jew exploitation of their paper money power, which continued with the IMF and World Bank after the Second World War; Einstein promotion, which led to the 'atom bomb' fake, continued through this period, and still continues; Jews generally avoided enlisting where they could, and ran black markets.
Wartime puzzles include faked 'Rape of Nanking', failure to fraternise with Ukraine, Dunkirk puzzle, conduct of battles in USSR notably Kursk, Jews in the German army in the east, Jews in Polish camps taken over by Hitler, Jews used by Germans in places like Latvia because Stalin had murdered most literate people.
Post-war puzzles include toleration of the Nuremberg kangaroo trials, the life imprisonment of Hess, the secrecy of Eisenhower's killing fields and similar atrocities.
• 1945-today
USA, USSR, UK all under ZOG control. Frankfurt School promotion of pornography and family damage, forced race mixing, Jew-controlled media monopolies, war against countries with non-Jew central banks, low-grade education based on Jewish-written 'textbooks', medical damage, the Holocaust fraud, groomed dictators around the world, and other frauds such as NASA and 9/11 and Middle East wars.
If this view is true, the entire 20th century, including both world wars, was Jews on one side (spread across the world as a layer) vs the rest of the world. The leading historian David Irving's works rely mostly on official archives and transcripts, supplemented by diaries and interviews. However, if there was a systematic Jewish policy, probably any trail would use Yiddish or Hebrew as its
lingua franca
; if the intelligence services were run by Jews, no doubt intercepts of coded Yiddish or Hebrew by Bletchley Park would have been ignored or suppressed. Similarly, large payments for arms, weapons factories, secret research into radar, shipping etc are not likely to have left easily-discovered trails. As it is, David recounts a German after the war saying he wouldn't consider telling Germans that Hitler had been backed by bankers; the Germans would have been furious.
For those new to Mathis: Brief account of some of Miles Mathis' Sources, Techniques, and Versatility
[1] He data-mines births, marriages, and deaths with afaik unparalleled skill, tracing for example Jagiellons from Poland, king-makers in Britain, media-manipulators in the USA. [2] This might lead to (e.g.) determining if L B Johnson was a Jews (as some seem sure), and if so would cast light on the Vietnam War. You don't comment on his Lenin paper, but if he's right (and I haven't checked the detail of his papers) the Russian Royal Family may have been largely Jewish, which of course also affects the interpretation of the USSR and likely treatment of its geopolitics. He seem good on e.g. the Wars of the Roses, with ingenious stuff on its being staged. His claim that the Manson thing was rigged seems good to me, too. [3] So his whole thrust re families seems new and illuminating. [4] I think he's interesting when he separates out finance from industry from aristocracies. In Europe (where he spent time) it's easy to forget that aristocracies before 1914 were important, or at least seemed to be. Lords, Honourables, Earls and what have you often lent their names to business projects, probably part of the process of removal/replacement. And industrialists as opposed to financiers were (arguably) different types, I'd guess industrialists having a low opinion of financiers (maybe up to 1913). His interpretation of the 'Protocols' shows this and strikes me as interesting. [5] I think he's not so good on jew warmongering, as far as I remember. [6] He's good on false flags and psyops - his Lincoln paper with emphasis on Booth as an actor (and Hebrew speaking) I thought very good. And Ned Kelly. His image examination I'm unsure about, but I'd give him the benefit of the doubt when he e.g. identifies photos as pasted-up. [And media - folk music, for example, and the art world as money laundering] So he's a bit mixed, but some of his stuff is very original, and thought-provoking. So he's OK by me; in fact I'd like to do a Skype online chat, though I doubt he'd do that. [7] On science, his Amarillo piece seemed good, and he's got the feel for nukes, probably partly nicked from nukelies, I'd guess. He recognises some 'science' is just a money-making scam. I've never been able to make sense of his pi=4 with kinetics; however some of his atomic stuff may be OK - for example somewhere he has an atomic weight not quite an integer, but with its mantissa an exact multiple of another mantissa. I didn't think much of his calculus explanation; I don't know why he got into alternative science, in fact; maybe just practising being sceptical. [8] Miles Mathis has several articles on Marx, as a Rothschild relative charged with disrupting genuine workers organisations. Fascinating suggestions on paid disruption, family connections with banks and German aristocrats, and 'spooks' and agents, and so on. I recommend him as a writer who sees through to the 'human' (if they can be called that) schemers without being apocalyptic. I think he's underrated because he keeps a bit under the radar – for example his site isn't that easy to navigate
A warning here: Drumont's book seems to contain an immense ragbag of accusations, claims, etc., thrown together indiscriminately. Miles Mathis's website has a piece on the 'Dreyfus Affair', once a huge (((media))) storm in France, which Mathis and his co-writer think was an intentional device to get the French to think that, after all the fuss, Dreyfus was proven innocent after all, so everything is fine about Jews. Drumont may have been part of all that. Unfortunately, Jews have had, and still do have, such control over publishing that really serious crits of Jews are filtered out. I fear, with all respect to Joyce, that fully-informed writers, with facts and figures, are very hard to find. So that e.g. Macaulay, who at first sight seems a serious commentator, in effect is just another 'Shabbas Goy'. And conversely, Walter Scott's writings on the then-recent French Revolution and Jews, are all but impossible to find. There must have been serious writers from Spain, Poland, and Holland on Jews, but, again, they are hard to locate – though with Internet this must be easier than before. Please be aware of this constant and very serious bias. You've read in the Jewish media that Stalin was anti-Jew and all this other crap. Stalin was a puppet of Jews all his life. Do you really believe he opposed them in any way? As you say, all the 'Bolsheviks' were Jews, and all the internal torture and murder squads were jewish. So was the money poured in from the outside by Jews. Jews are notorious for using puppets - for example, jews in Ireland had a Jew called Shatter to force immigration into the supposedly Irish country. Just one example. Whatever you've been told, Stalin was another puppet of Jews. You may believe the CIA had no idea the USSR was about to 'fall', as the Jewish media said. You need to extend your range of revisionism. "Donation of Constantine"--was proved by Lorenzo Valla in the fifteenth century to be a fake On M W Mathis, you, like many 'critics' of his, just look at one issue. He has a huge body of work. I think you're naive. How many BBC 'documentaries' have examined 9/11, the holohoax, Balfour and WW1, Churchill's war crimes, the Fed, the Gulags, the Holodomor, Jews and minerals about the time of the Boer War, profiteering from fake 'asylum seekers', Kissinger on Vietnam, the EU and Jewish money, Japan's funded war against Tsarist Russia, Cromwell and the Bank of England, Lenin and mass murder, Jewish porn, lies about immigrant crime, prostitution in Tel Aviv? (Or for that matter nuke frauds?) Absolutely none. . . . . You give just one example, namely the Palestinians, and what you say is true, and needs explaining. But the 'left' is a puppet of Jews and would vanish instantly if not handed out money from taxes and from Jewish money printing. My working model is that Jews have two approaches - [1] See what assets, projects, materials etc are most valuable as stores of power: could be land, money, food, minerals, organisations. [2] Then use these to maximise deaths of non-Jews.. For example, WW2 maximised deaths of Russians and Germans plus others; the nominal aims of the war were an irrelevance - once they started it and kept feeding into it, it proved unstoppable. The deaths were the main aim, but adding/ holding on to money, countries, legal forms etc were needed. The issue is whether the Nazis were in effect agents; and there are many cases of Jews funding fake oppositions – including in the USA and UK. In fact, it's probably standard Jew practice around the world. . . . it's possible Jews saw that after WW1, blockades, lures into war [I think], deaths, Jew control of German money, Bela Kun etc etc, Germans were very seriously sick of Jews. Maybe the thing was rigged up. Mathis has a very convincing look at improbabilities, such as Hitler being released from jail; a Rothschild being imprisoned – then later released; Jews being encouraged to emigrate to Palestine without any proper safeguards for Palestinians; failure to ally with Ukraine. And there's also the issue that Germany went to war with Russia, but not with Jews controlling Russia. Time and again Jews arrange atrocities to provoke war, and the gulls go along with it, one it has been started. For example, Jan Lamprecht in South Africa has advertised anti-white killings and atrocities in South Africa for years, and is psyching himself up for war with blacks – but not with the Jews who started the whole thing after murdering Verwoerd, if he's correct about that. So it is possible the Nazis were a fake, and that Germany was valued because of its science – something Jews had no idea about, nor their surviving Slavs. === November 27, 2017 - 9:18 am | Permalink @Carolyn Yeager (Nov 26th, 7.55 pm)- You don't seem to understand the seriousness of the issue. It's entirely possible the 'Nazis' were secretly funded and set up by Jews. The opium wars, Cromwell/Bank of England, Warburgs and the Fed in the USA, so-called 'Labour' party in Britain, United Nations, EU, takeovers of both Democrats and Republicans, invention of Freemasonry, coup in Russia — all were set up, or influenced, by Jews. The question is, were 'Nazis' in the same group? I was very anti-this view, but I have to admit, now, it's possible.
HTML and content © Rae West 21st-31st October 2013. Stalag edition note added 2014-04-08. Federal Reserve as Usury note 2014-12-04. A few inclusions 2016-06-18 including Reynal & Hitchcock, Ford and two Stalag editions, and a few more images.