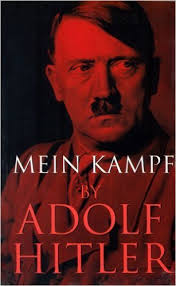 Indian copy of Murphy translation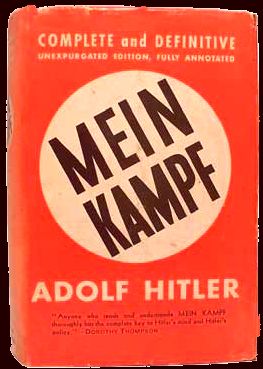 Reynal and Hitchcock's 1939 or 1940 edition.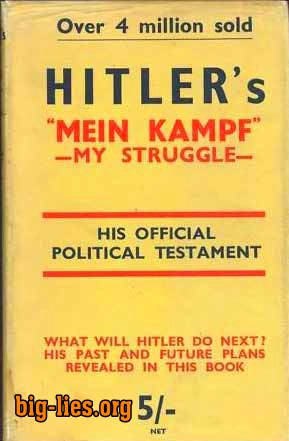 British edn of Murphy's translation. Approval may have been withdrawn.
The Biggest-Selling Book on Modern History to Include 'Jews': Many Lessons for Today in this Book, Now Almost a Century Old
Adolf Hitler (and other?): Mein Kampf


---
Longish review warning! This two-volume, not very coherent, look at experience, theory, will, and practical politics in post-World War I Germany is an important document in Jewish studies. I give this five stars despite the evidences of inconsistency. This link to David Irving's site has an enormous miscellany of information on Hitler, both public and private.

I hadn't even considered reviewing this two-part book until I found a copy in a (highly profitable) 'charity shop'. The cover design is as shown in the top left; it's by an Indian publisher, Jaico, in Mumbai, printed in Delhi; copied, though it doesn't say so, from James Murphy's translation, with Murphy's own introduction and notes, written, apparently, in the reassuringly English town of Abbotts Langley, in Feb 1939, and published in March 21st 1939, by Hurst & Blackett, about six months before Neville Chamberlain and Eduoard Daladier jointly declared war on Germany, supposedly to help Poland. (Many British people are unaware of the fact there was a joint declaration with France). Hurst & Blackett also published Benito Mussolini's autobiography in 1937, translated as My Life.

Publishing History. Different editions in red.
My Indian paperback says it was first published in 1988 (was there some 50-year copyright rule?) and by 2011 had been through 53 impressions, all presumably with the same typos ('Stage' for State', 'hate' for 'have', '1' for 'I', 'polices' for 'politics', 'Walknstein' for 'Wallenstein', '1948' for '1848' and many many more); it may have been scanned with early OCR equipment. I've tended to refer to chapters, rather than page numbers, since page numbering may differ between versions. The only other pre-WW2 English language translation I've been able to find is a 1933 abridgement by E T S Dugdale in Britain, called 'My Battle' in the USA and 'My Struggle' in Britain. An anonymous Wikipedia entry states that Dugdale and his wife 'were active in the Zionist movement', the wife being the niece of Lord Balfour, a British aristocrat intermarried with Jewry. It's a very safe inference that the result must have omitted much Jewish material.

Murphy's translation was published in 1939 in the USA by Houghton Mifflin. I haven't been able to find information on translations into French or other European mainland languages, or into (for example) Turkish. After 1945 the book was banned or not published; I believe it was banned in France and may still be. A typical journalistic comment online is 'Officially, the book cannot be bought in Germany, Hungary, Israel, Latvia, Norway, Portugal, Sweden and Switzerland, but is readily available in Russia, Romania, the United States and the United Kingdom.' All this is an important commentary on the power of organised Jewry; a serious two-volume work was left untranslated for almost fifteen years, even though war was on the horizon. It's coincident with Internet that Mein Kampf has been translated again, and Hitler's speeches have started to become more generally known and the whole pre- and post-Second World War propaganda structure has started to erode and crumble.

Since writing this review I found two other editions: firstly, a Houghton-Mifflin edition copyrighted 1939. There may be differences between 1939 and 1940, to do with US entry into the Second World War. It is usually called the Reynal and Hitchcock edition of Mein Kampf (the link is to an archived version). It has ten 'Editorial Sponsors', possibly advisors. I may as well list them: John Chamberlain, Sidney B. Fay, John Gunther, Carlton J. H. Hayes, Graham Mutton, Alvin Johnson, William L Langer, Walter Millis, Raoul de Roussy de Sales, and George N. Shuster. The book states it is 'fully annotated'; a word count shows it is a bit more than 20% longer than other unexpurgated versions. I haven't checked the quality of the annotations, but on the face of it this translation may be the best for most English speakers.

Secondly, another edition is a translation by Ralph Manheim (link to my notes, below; NOT Mannheim), apparently made in 1943, with an introduction dated 1969 by Donald Cameron Watt, then a 'Reader in International History' at London University. The publisher, Hutchinson, was 'in association with' Hurst & Blackett, of the abridgement by Dugdale in 1933.

A republished older (wartime) edition is advertised on www.hitler-library.org as 'A very rare version of this official Nazi English edition ... republished for the first time since it was printed by the Nazi government and is available here. ... The Nazi version is filled with grammar errors, spelling errors, and astonishing punctuation errors. This printing preserves every error exactly as it was published in Germany. Nothing has been altered.' This appears to be similar to the 'Stalag Edition' of Ostara, below.

I doubt whether the book had much impact on the British prisoners, as of course it deals mostly with Germany, the Great War, the Austro-Hungarian Empire, and similar topics, many from the nineteenth century. Hitler, or the NSDAP, might have included material on the British Empire and India, the USA, Japan, the Fed, Jews, Moslems, oil, gold, sabotage by Jews in Germany, the start of the Great War; but most importantly the effects of German control of finance in making Germany wealthier. But he ignored his own advice on the importance of propaganda. See my checklist of omissions, below.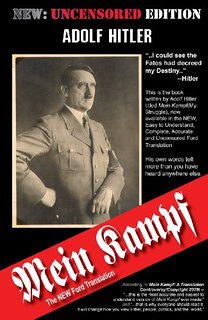 Michael Ford's Translation. Unknown quantity?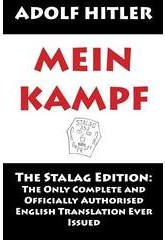 Ostara's Stalag Edition (for POWs).



Hitler-library.org advertises yet another translation, by Michael Ford. Ford has a free online 200-page e-book, listing some errors in other translations. To get a feel for variations in translations, this is worth a look. Remember that Mein Kampf sold in huge numbers, so there's no controversy over the original wording in German. However, Ford's use of 'Holocaust' suggest his translation may nonetheless be misleading, or pro-Jewish propaganda, as some Amazon reviews claim. His version includes explanatory notes, which certainly appear useful—for example, a reference to 'Love's Labour's Lost'; events '600 years ago'; individuals, towns, proverbs, and so on. Read his 200-page account (link above) to judge these notes. They may be excellent; or they may be Wikipedia level—I haven't seen that edition.

And Ostara Publications republished (in January, 2014) a little-known 'Stalag Edition', an approved English-language translation which they say was printed from 1937 to 1944, for distribution to English-language readers in Stammlager; I don't know whether anti-NSDAP prisoners before the Second World War were counted as 'prisoners of war'. Here's the advertising page for the Stalag Edition on Ostara's website). Ostara claim this edition is longer, and does not have large chunks censored out. But this claim seems untrue; word counts show that Murphy's translation and the official NSDAP book for prisoners-of-war are about the same length, about 270,000 words. There are occasional errors in wording, such as 'reign' in place of 'resign', in addition to a sprinkling of punctuation errors.

As a bit of retrospective scene-setting, note that Adolf Hitler was born in 1889 in Braunau-am-Inn (i.e. Braunau on the river Inn). He was therefore about 25 through 30 during the First World War, and about his mid-30s when these volumes were written. This small town was part of the Austro-Hungarian Empire, a joint and rather ramshackle empire with two 'Emperors', and which impressed Hitler in a negative sense, as being something like what could be called 'multicultural'. Incidentally, several currencies circulated side by side, something that influenced Friedrich Hayek of 'The Road to Serfdom'. Austria, or Österreich, was for about a millennium something like a border state against Islam. This east Reich, or eastern realm, or east Mark or March (a word now most familiar in Tolkien's fiction), like lands to the east of Prussia, had German populations amid Czechs, Hungarians, Poles and others. These eastern areas lacked obvious geographical boundaries such as mountain ranges and sea barriers, inviting migrations, and imprecise boundaries: Poland especially fluctuated in size, and Lithuania even more so. Sweden was another country which expanded hugely, under Gustavus Adolphus, at the time of the Reformation, mostly because of French money. These peoples had histories and mythologies and stories which were partly propagandist: German examples include German prehistory and mythology, German resistance to Rome, Charlemagne's 'Holy Roman Empire', Huns from the east, the Reformation with the devastating Thirty Years' War, Turks at the gates of Vienna, and Napoleon. In view of the fact that the history of Napoleon was, in Britain, throughout the 19th century, censored and manipulated, it must be the case that his effects were censored and lied about even more on the European mainland. Note that Germany, unlike France which was largely centralised on Paris since Chauvin, was made up of numerous principalities, each more or less independent; Bismarck is associated with unification, and war with France, establishing the 2nd Reich. German and French principalities had fought for centuries; united Germany, like Britain at a similar period, was more impressed by their recent victories than these deserved taking a long view. Note that Jewish history is deliberately kept obscure: it's likely that fraud and theft and murder, changes of identity, and flights to other areas inhabited by Jews, had gone on for centuries before modern times. Thus Roth schild (Red Shield) was Bauer in the 18th century; but what names did such people use in the past?
Top of page

Mein Kampf in the original edition (German, presumably printed in black letter typeface) was supposedly dictated to Rudolf Hess, I presume as a typescript, though this has been denied. Alfred Rosenberg and Emil Maurice have been suggested as contributors. David Irving says it was 'written only partly by Hitler'. There seems to be no way to separate out the possible adjustments made to Hitler's words. Volume 1 was written while Hitler was imprisoned in Bavaria: there was a separatist Bavarian movement against Prussia (i.e. Roman Catholic south vs Protestant north), no doubt encouraged by Jews, which was 'about to become fact'; Ludendorff and Hitler opposed it in November 1923, with a group of men, of whom 16 died. In November 1923, the NSDAP was forbidden, and in February 1924 Hitler was sentenced to five years, though he was released in December 1925 after which the 2nd volume was published. It's not clear to me how much access Hitler and Hess had to documents and records during the writing process: a few names are mentioned but solid facts are somewhat thin. There was some wrangling over the title. Bear in mind that the book (which went on to sell in large numbers up to wartime) may well have been expected to remain relatively obscure. However that may be, after its success it seems to have been left unrevised. (I found there's a later translation of Mein Kampf by Ralph Manheim, introduced by D C Watt, which specifically claims to include all changes in the second edition: there are very few of these).
Top of page

Impact and Reviews It's remarkable how few serious reviews the book received; or perhaps they are censored and/or avoided. George Orwell's review, printed in March 1940, shows he missed most of the important material. Orwell all his life was run by Jews; his publishers were all Jews, and it must be questionable whether he was directed which lines to take, for example in the Spanish 'Civil War'. Necessarily, he had to say Hitler eventually wanted war with England (otherwise why the 'phoney war'?) despite Hitler offering peace terms and wanting alliance with Britain. Another odd passage is: Hitler has said to them "I offer you struggle, danger and death," and as a result a whole nation flings itself at his feet.' I don't know if anyone believed this, but perhaps it may be related to Churchill's May 1940 repeated phrase "I have nothing to offer but blood, toil, tears and sweat" meaning of course "I have nothing to offer you ...'
J G Ballard, the surrealist novelist, wrote a curious Freudian space-filling review of Mein Kampf in 1969, with much emphasis on uncleanness and bodily functions and so on, pointing out that much of Hitler's thought was biologically based. Possibly Ballard thought people were machines or robots?
For these reviews and much more comment, click old reviews of Mein Kampf.
Top of page

Stylistic Note on Mein Kampf: many commentators go out of their way to describe Hitler's writings as crude, uneducated, badly-worded, violent, full of swear-words, and so on; these lies are a deliberate part of demonisation. The use of German in the Austro-Hungarian Empire was different from that in Germany. As a handy comparison, we might compare American English, with multiple Jewish vulgarisms, and influences from Spanish and 'ebonics', with English as it is in England. Expecting English-style English from (say) Eustace Mullins or (say) US Presidents or (say) Jews like Kissinger would seem to be about as sensible as expecting High German from Hitler. Analogous comments apply to discussions of Hitler's speeches.
Top of page

Hitler as a Great Man and Friend of the Common Man and Woman: Comparison with Nero by 'mincuo' (Italian?) is in the off-topic discussions of the nuke lies site. Here's a slightly edited extract:
The Emperor Nero was the Hitler of the ancient world, the ancient Satan. A lot of the Hitler demonization was imitated from the demonization of Nero. Fire, flames, extermination, an artistic madman, cruel, paranoiac. You've been told Nero burned Rome, murdered ten of thousands of Christians, crucified them, set lions on them in the Circus Maximus, while he played the lyre. All that is a bunch of lies, but the books afterwards were written by historians who were Christians or the Aristocratic class, and strong enemies of Nero. In fact, among other things, Nero made two great reforms. One was a monetary reform, the other was a fiscal reform. Both were for the people and against the aristocratic class. Nero took away from aristocrats a great part of their privileges in collecting taxes, giving permits, concessions, contracts and so on. (Two small examples: one commercial ship contained at that time up to 10,000 tons of say of wine, grain, oil... The permit to import and deal given by the Aristocratic bureaucracy to a trader gave them some 25% of the earnings. Another example. Roman people didn't live in the beautiful houses (domus) you have read in the school books. Only 1400 or 1500 owners with their families and slaves lived there. There were 1,200,000 - 1,600,000 Roman citizens and they lived (paying a rent, not as owners) in the "insulae" i.e. six, eight, and often ten-storey-houses, or even 14 storey-houses, like the "Insula felicles". There was an immense speculation at that time. You can understand the value of the building permits given by the Aristocrats. Even when there was the famous fire in Rome, Nero taxed them and made a requisition of 1/5 of their grain to help the population, then fixed strict rules for the new buildings and so on. You can understand how many enemies he had. After his death (64 A.D.) the demonization began. Every book speaking even a bit objectively was removed. But notwithstanding the heavy propaganda, the Romans continued to preserve some memory. For more than 1,000 years every 9 June, the day of the death of Nero, a great mass of people brought flowers on the (presumed) Nero mausoleum, ending only when the Pope Pasquale ordered in 1100 A.D. to destroy the grave and to build a chapel. (It subsequently become a famous Church in Rome: "Santa Maria del Popolo").
Top of page