THESE AND MANY MORE REVIEWS ARE NOW ALL COLLECTED TOGETHER
Click here for COLLECTED REVIEWS
Amazon.co.uk removed all reference to this book, substituting 'correct' books
This review is from: Racist Murder.. The Macpherson Report by Dennis Norman, George Erdos, Ahmed Al-Shahi (Published by Civitas, 2000)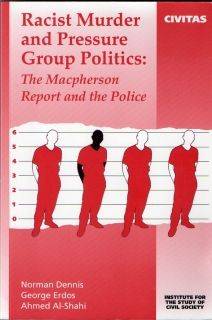 Crit of the Stephen Lawrence 1993 murder and 'institutional racism', 6 May 2009
The title is misleading - the book is about the Macpherson Report into Stephen Lawrence's murder in 1993. After it, the commentariat all started to say 'the police are riddled with racism' despite the fact that 'no evidence of racism in the police who dealt with the case was ever produced.' Macpherson invented the phrase 'institutional racism'.
Dennis and Erdos date the racism industry from 1991: CCETSW ['Central Council for Education and Training in Social Work'] Diploma in Social Work guidelines 'set out in detail the new orthodoxy'. The 'self-evident truth' that 'racism is endemic in the values, attitudes and structures of British society.' No dissent ... would be tolerated. Colleges and courses that did not accept it would lose their licence to train social workers. Evidence of doubt was evidence of unsuitability...'
The Report was published in February 1999. Most of the book describes the inquiry, a sort of kangaroo court. (For my taste the three chapters on historical and sociological padding is of doubtful validity. For example, it is suggested all hate is more or less irrational and can never have a sound basis).
'There was more than a score of barristers... Witnesses were examined and cross-examined. But there were no defendants and no jury. Sir William [MacPherson] alone was responsible for assessing the degree and nature of the truth... His three advisors were the Rt. Reverend Dr John Sentamu, Bishop of Stepney; Dr Richard Stone, a general practitioner and chairman of the Jewish Council for Racial Equality; and Mr Tom Cook, a retired senior police officer. ..'
There was constant noise from the public gallery. The 'Black Police Association' is mentioned. (There is no white police association). ACPO, Association of Chief Police Officers, apparently a profit-making organisation, gets a mention. Pages 82-3 are on editing of taped interviews for the report, giving a false impression. There are pages and pages including a supposed expert witness who simply repeats the same stuff in different words.
I hate to sound querulous and captious and also lazy - but a straight account of the proceedings would I think have brought out their grotesqueness better. But at any rate this is an important effort at viewing these events objectively.
Your tags: anti-white racism, criminology, institutional racism, kangaroo court, lawrence report, macpherson report, stephen lawrence