Power grid "lock" limits growth of wind power in Hungary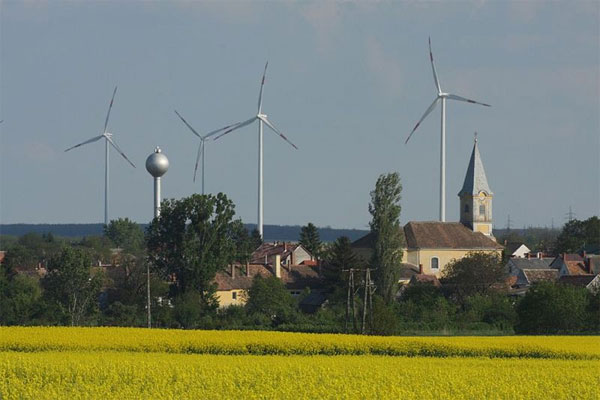 No more windmills can be built in Hungary before ways for storing excess electricity generated by them are developed, writes fn.hu. The Hungarian Energy Office said the problem with windmills is that their performance varies depending on the wind, and since the energy cannot be stored, when the windmills produce more power, other energy producers have to cut back their own output.

The total performance of Hungary's 63 windmills is 112.075 megawatts, less than 1% of the country's electricity consumption,
That's from an Oct 2008 article. I put 'unfortunate Hungary' bearing in mind its 20th century history, ruled by the fanatical racist cult of Judaism. There are related issues on the same website ---
* Green lawmaker calls for halt to nuclear plant extension - 2011-05-23 10:19
* Minor accident at Paks nuclear plant - 2009-05-06 09:18
* Parliament approves expansion of atomic plant - 2009-03-31 08:18
* Hungary's new nuclear waste dump receives first load - 2008-12-03 08:11
* Gas wells to be drilled in western Hungary despite local opposition - 2008-10-29 08:12
* WWF Hungary protests expansion of brown-coal power plant - 2008-10-03 08:39
* Hungarian president speaks out against nuclear energy - 2008-06-06 09:16
* Electricity consumption breaks new record in Hungary - 2007-12-07 11:30
My Edward Teller piece is another commentary on the misfortune of Hungarians.