---
Inserted March 2015: Rerev's video of people asked if they've heard the idea nuclear weapons were a fraud. The chap in his shop in Cromer claims he was at the Maralinga tests (well... miles away)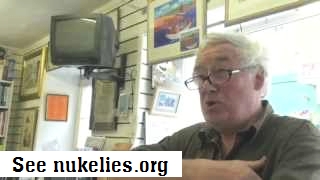 ---
I found this and am flagging it here -
Maralinga in South Australia was a site of nuclear tests by Britain; or so the story goes.

There was an Aussie investigation in the mid 1980s, published as the McClelland Royal Commission Report. Two volumes and a conclusion are online, and downloadable as PDFs. It doesn't seem to have been taken very seriously - it's typewritten in painful non-proportional font, when they might have used an IBM film ribbon machine.
http://nuclearhistory.wordpress.com/2011/11/14/download-the-mcclelland-royal-commission-into-british-atomic-bomb-tests-in-australia/
I haven't studied this in detail; however it appears to be purely political - all the claims made about testing seem accepted at face value. There appears to be absolutely no attempt to check or validate anything. Just another bogus 'report'.