'Daily Mail' newspaper and Blackshirts in London, 1930s - Oswald Mosley and 'Hurrah for the Blackshirts'
This is a story which pops up intermittently; this is my attempt to catch people Googling for it.
Worth noting that Mosley was part of the establishment and probably what would today be called "controlled opposition". His policies are not discussed by the media or 'historians'. His oratory—of course, fashions vary—seems to have been little more than clichéd statements on employment. The Jew desire for more war, and deception about the U.S.S.R. (the 'Soviet Union, often wrongly called 'Russia'), to continue Jewish control of paper money, was as far as I know unmentioned by Mosley. (I may be wrong here, though I doubt it).

So it's entirely possible that official policy was to make it seem there was a lot of pro-Jewish feeling in London, something unlikely to be true.

Bear in mind that the First World War was a living memory, having ended fewer than twenty years before—the world's most destructive war ever, which introduced censorship on a huge scale; most people, including the soldiery, had no idea of the results of that war.

In the same way that the USA had controlled demonstrations for causes Jews were promoting, watch for anomalies in the comments on Cable Street, in particular the non-identification and non-arrest of people implicitly on the Jewish side.

[Note added 4 Oct 2013, the 'anniversary of the Battle of Cable Street' of 1936]
H G Wells (who taught one of them) wrote in his
Experiment in Autobiography
I will not even summarize the headlong uprush of Alfred C Harmsworth and his brother Harold; how presently they had acquired the
Evening News
, started the
Daily Mail
, and gone from strength to strength until Alfred
[later Lord Northcliffe]
sat on the highest throne in British journalism,
The Times
, and Harold
[later Lord Rothermere]
was one of the richest men in the world.
According to S J Taylor
, in
The Great Outsiders - Northcliffe, Rothermere, and the Daily Mail
(1996)--
* Alfred Harmsworth [blond, flamboyant, changeable - 1865-1922] became Viscount Northcliffe.
* His brother Harold [plodding, mathematically skilled, acquisitive - 1868-1940] became Viscount Rothermere.
* The
Daily Mail
was started in 1896. 1908 was the first 'Ideal Home' exhibition; 1909 a Newfoundland wood pulp plant; 1910 a flying machines competition; 1911 a failed 'brown bread' campaign.
* Northcliffe was 'a powerful force for war with Germany'
* Northcliffe died in 1922; succeeded by Rothermere, who was less of an inspiring type
* It's generally accepted that newspapers then had more influence than before or since. But radio was coming up - Baldwin is credited with using radio to stop the 1926 General Strike almost single handed, in three broadcasts, written by someone called Tom Jones; this influence of radio was noted by Churchill and the Germans.
* 1927 pieces on Hungary, influenced by a Hungarian mistress - S J Taylor describes Rothermere as absorbing assorted ideas, mooching around sifting things, however cranky, one of the few who realised Germany would balk the Treaty of Versailles. [Note: Hungarian Jews include Bela Kun, Oppenheimer, Edward Teller, Ulam, Herman Kahn, Ralph Schoenman, George Soros, Frank Furedi. S J Taylor had no idea of the specific influence of Hungarian 'Jews']
* 1934 'Hurrah for the Blackshirts' headline seems to have appeared, though what font size or where isn't stated; nor is there much on the writing about Mosley and his meetings. The 'politically correct' author, Taylor, takes it for granted that interruptions are acceptable. On 7 June 1934, at Olympia, (after an Albert Hall rally in May) '
.. Fifteen thousand gathering. .. The Communists
[sic]
had been able to put two and a half thousand agitators into the hall..
[sic; one in six?]
.. an unending round of well-organized harassment started.. As soon as one group was quelled, another began. ..'
It's not clear how much violence there was in all this. On p. 283
'.. Rothermere informed Mosley he was pulling out. He was having trouble with his Jewish advertisers over his support of the movement, he explained. .. Mosley's response was devilish.

[sic]

He said: Do you know what Northcliffe would have done? He would have said, 'One more word from you, and the Daily Mail placards tomorrow will carry the words: "Jews threaten British press"'; you will have no further trouble.'
As far as can be told from this source, it seems fair comment; Rothermere seems to have been the follower, who had money and wanted to hang on to it, while Northcliffe was the originator, who presumably had more faith in his own judgment, having pulled off a number of tricks. If Northcliffe had lived to the same age as his contemporary H G Wells, maybe the history of the 1930s would have been different.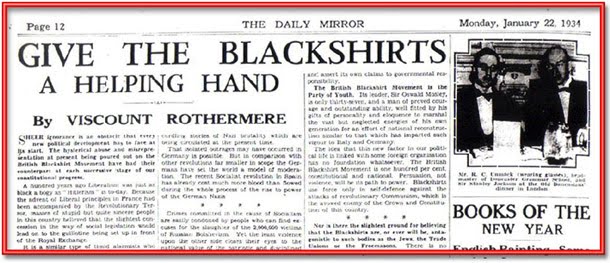 The Google image below looks like a fake to me; someone's used a computer printer - it has no date, and newsprint was too valuable to waste. Possibly the actual articles resemble the other picture, above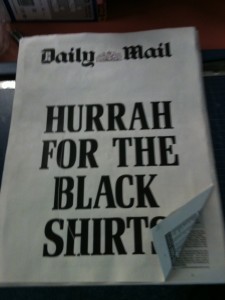 • 1936 The 'Battle of Cable Street' was street violence using common Jews as thugs. It's clear the police had no idea what to do. Here's a Youtube based on cinema newsreel of the time --