Vanunu - part of a media campaign to pretend Israel has nukes
Sorry about the clumsy title - only 60 characters are allowed... it's supposed to mean that it's likely that the controlled media told lies, using Vanunu to pretend Israel has nuclear weapons, when it hasn't, probably. A 'Vanunu conspiracy theory' in fact.
BBC TV program 2003. Click this link to see the official transcript below; I've put a full transcript taken from some BBC source. By 2003, they seem to be pretending the BBC film was instrumental in 'exposing the story' of Israel's claimed 'nuclear weapons'.
This is a companion piece to a 10-min video I'm doing, the audio being Frank Barnaby speaking on 13 May 1996 at a meeting of the 'Campaign to Free Vanunu' held in a room in the House of Commons. There was a rather motley collection, including Susannah York (actress), Bruce Kent who dropped in, and Jeremy Corbyn - late, as he was meeting Tony Blair. Paddy Joe Hill of the 'Birmingham 6' couldn't come.
And Peter Hounam, an ex-Sunday Times 'investigative journalist' whose interview with Vanunu appeared in the
Sunday Times
in 1986. (NB the
Sunday Times
came under Rupert Murdoch's ownership in 1981). Barnaby was supposed to have been present with Hounam and Vanunu, presumably in case Hounam didn't understand what was going on, or what he was being told to say.
In retrospect the entire Vanunu conspiracy must have been rigged up, from the abduction with sex interest ('lured to Rome by a sexy Israeli agent'), through the supposed sensational revelations, and years of equally supposed solitary confinement, to these 'Campaigns' intended to keep the story alive. No doubt the arrests of Hounam were rigged, too.
________________________________________________________________________________________
Mordechai Vanunu aged 41 family of 11 children born Morocco moved 1963 to Israel. 1971-74 Israeli army. 2 Nov 1976-27 Oct 1985 at Dimona reactor in Negev desert. 1 year later told Sunday Times. Pub 5 Oct 1986 'The secrets of Israel's nuclear arsenal.' Lured to Rome, kidnapped, tried Jerusalem district court for treason, aggravated espionage, collection of secret info with intention to harm Israel's security. 18 year sentence. Past 10 years in solitary confinement.
Subsequent material includes e.g. photos of Vanunu in Hiroshima, poems, etc.
________________________________________________________________________________________
The
Sunday Times
website has a retrospective look at their wonderful 'scoop' -
http://www.timesonline.co.uk/tol/news/article830147.ece
. It says:
.... The scientists [who studied the photos etc supposedly by Vanunu] include Theodore Taylor, one of the world's most experienced nuclear weapons experts. He was taught by Robert Oppenheimer, the father of the atomic bomb, and worked on America's first bomb designs. He later went on to head the Pentagon's atomic weapons test programme.

.

Dr Taylor studied the photographs taken by Vanunu inside Dimona and a transcript of his evidence near Washington DC last week. He said: 'There should no longer be any doubt that Israel is, and for at least a decade has been, a fully-fledged nuclear weapons state. The Israeli nuclear weapons programme is considerably more advanced than indicated by any previous report or conjectures of which I am aware. '

.

He added that Vanunu's testimony was entirely consistent with an Israeli capacity to produce 10 nuclear weapons a year that are significantly smaller, lighter and more efficient than the first types of weapons developed by Russia, America, Britain, France or China.

.

Another scientist who authenticated the evidence uncovered by Insight is Dr Frank Barnaby, a nuclear physicist who worked at Aldermaston,
Theodore Taylor was supposedly a nuclear weapons designer, trained or influenced by Oppenheimer. Some of his writing is on the web, often as one of a team who are otherwise Jews - he looks like the man allowed to tell lies on the 'Sabbath'. January 1996
Bulletin of the Atomic Scientists
has a piece by him - the story is that he became a skilled weapons designer, but then moved on to become a peace activist. In view of the fact he fully supports the mythology of Hiroshima, it's clear no reliance can be placed on any of his material.
________________________________________________________________________________________
More on Frank Barnaby and the neutrally-titled 'Oxford Research Group' on our site here
Barnaby and 'Oxford Research Group'
________________________________________________________________________________________
Here's some more material - I leave it to you to decide its veracity.
VANUNU'S PHOTOS OF DIMONA - 1985
taken from the website
http://vanunu.com/uscampaign/photos.html
Note: This is from vanunu.com/uscampaign - however this subsite is not present on the site index of vanunu.com . The online photos are dated 2009 for some reason.
Acting on his conscience, he carefully took about 60 photos of the top-secret labs and unique production processes involved. When some of these photos were originally published in the London Sunday Times' exposé, they confirmed his eyewitness testimony about the extent of Israel's nuclear weapons program and revealed Israel to be one of the world's top nuclear powers.
Here's a few typical photos on that website:
'4) Control Panel'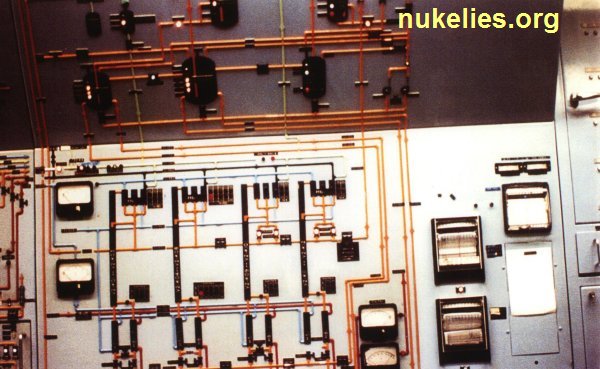 '8) Looking inside a glove box at lathe for turning precision shaped pieces of plutonium or other components.'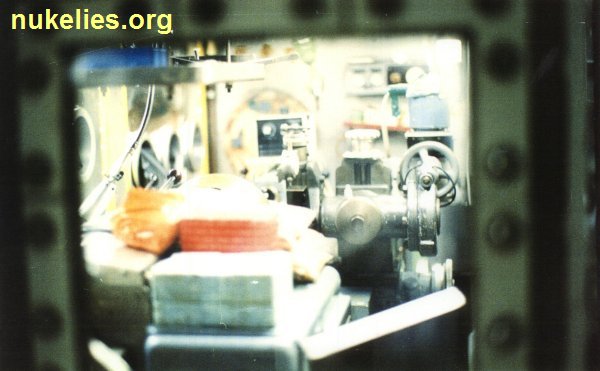 '12) Plutonium separation plant control room'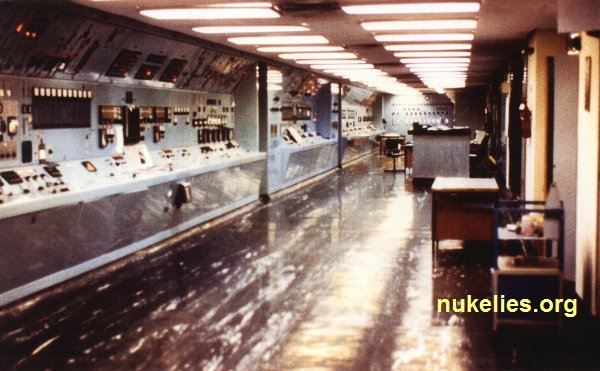 '15) Production model of nuclear weapons core'