External Links. [Click top right to close windows after reading]

(I) ANTI-REVISIONIST SITES—
ADL [Large site—which won't tell you how they go about their activities]
Almanac, Canadian Site [This site may have been discontinued. It had pieces e.g. on 'techniques of denial'.]
'The American-Israel Cooperative Enterprise' [Click to visit a typical subsite, entitled 'Holocaust Denial'. The 'Jewish Student Online Research Center' is on the same site.]
Einsatzgruppen [ 1997 site apparently by Ken Lewis deals with this (many documents, and many omitted, in English translations. Essentially presents the conventional view, with a selection of supposed documents on the 'final solution', and some pictures. NB for a time my link was incorrect and didn't work—apologies). And a Nizkor subsite on the topic, though the arrangement is unhelpful]
Holocaust-history.org . [Large site, but with interminable cross-links and rather feeble layout—it seems to have been designed by committee—which conceals much of its content: standard Hitler material, Hungary, 'the Bolshevik canard', and so on. Has a newish piece on the chemistry of cyanide which is shrill but unconvincing. Many photos. The guest book has some comical items. (I re-found this site on looking up a piece by Yale Eideken on Irving's trial, purporting to analyse Irving's legal mistakes. He compares me to Charlie McCarthy, someone I hadn't heard of—apparently a talking dummy—I'm not very familiar with working-class US entertainment. NB please, someone, correct his spelling 'Krystallnacht').]
HolocaustSurvivors.org . [A new site, I think, specially funded, in Louisiana. Has family photos etc. on a small scale, but general lack of evidence; includes also photo of the supposed gas chamber at Auschwitz discredited with the help of the Irving trial. Claims to have documentary proof of gassing. (NB—the technical quality of this website is suspect—if it crashes, don't be surprised).]
Institute for Jewish Policy Research . [Based in UK. Legalistic, with an appendix summarising, or purportedly summarising, features of 'Holocaust Denial' legislation mostly in Europe. Some (not much) material on how Internet might be controlled. It has details of the failed Bill in the UK, including the wording 'other similar crimes against humanity committed by Nazi Germany', thus excluding any other mass murders. One of its publications is a rather dull and evasive piece on 'Holocaust denial' legislation in the UK, concluding unanimously that it would be undesirable. An appendix lists panel members, including the editor of Searchlight and Dr Georg Nolte. I was amused to see that 'foreword' was misspelt 'forward' by Anthony Julius, a lawyer.]
The Mad Revisionist [Anonymous site, though probably by Nizkor or some such site. Makes joke parallels, e.g. about the existence of the moon, implying the revisionist case is weak—without addressing the actual questions.]
Nizkor [Large site which is notoriously weak and evasive on actual documentation. A typical subsite is 'People' . Surprisingly few names, and surprisingly piffling treatment. Their Internet spamming technique though is competent. In late 1999 there was talk of it being sold at a high price; I don't know if anything came of this]
Harry Mazal OBE's site [Under development. At present, almost entirely Nuremberg trial, plus Dachau gas chambers. Has an out-of-date feel, as, it seems, nobody else accepts Dachau gas chambers any more, and there's widespread awareness of the unreliability of Nuremberg. (For non-Britons, OBE means 'Order of the British Empire').]
Public Eye , ['sponsored by Political Research Associates'. Pro-Nizkor. One fears that some of these organisations are full of bogus reformers. The link was to a piece on 'antisemitism' which seems not to work; try this link , their home page. Topics include irrational Jewish conspiracy theories, hate crimes, David Icke etc.]
The Skeptic [Feb 1994 edn. Linked to F Miele '.. test case for the skeptical ethic..' and B Siano's review of D. Lipstadt's 'Denying the Holocaust'. (Most of their articles aren't on Internet). Skeptic has several loosely-associated people—Shermer, Carroll, Randi. In my view their work is rather feeble, selecting only trivial targets, which no doubt explains why they're tolerated—or ignored.]
Simon Wiesenthal Center , Los Angeles. [Supposed pursuit of war criminals (unless of course they're US, Israeli, ...) The true record in fact is rather different from what I presume remains the common perception. Immense financial resources. Michael A. Hoffman II wrote: 'The Wiesenthal Center is not a "human rights group" as the New York Times claims. The abridgment of rights of free speech and expression curtails human rights. The Wiesenthal organization is a religious Zionist organization and should be described as such..']
[Back to start of 'Free Speech, Internet, & Holocaust Revisionism']
External Links. [Click top right to close windows after reading]

(II) REVISIONIST SITES:—
Aaargh

[French site, closed down late 2000; now back at a different URL. l'Association des Anciens Amateurs de Récits de Guerre et d'Holocauste.

Large, with a slightly macaronic appearance. It has much of Rassinier (in English). New section considers Goldhagen. Something on Kevin Macdonald. Also Faurisson archival material, e.g. 'Adventure..' and Garaudy/Pierre. It has a probably-correct debunking of Treblinka by the use of ground-penetrating radar. It has New Zealand military historian/theoretician Joel Hayward's dissertation on Holocaust Revisionism—or, so far at least, some of it.
Unconventional copyright message: '... We do not request permission from authors living in countries where freedom of expression is denied by law, as in Germany, France, Switzerland, Israel, China etc. because they are nor [sic] free to consent.']
Adelaide Institute [Fredrick Töben's site in Australia.

Newsletter etc. Unflattering accounts of Australian university history teaching. Töben was arrested in Germany in April 1999; accounts of this are on his site. NB: layout is poor with e.g. no indication of contents of his numerous newsletters.]
Austin J. App

[was, or is, an early revisionist. 'A Straight Look at the Third Reich' written at the time of Nixon mainly looks at postwar measures against Germans. This site ('First Amendment Exercise Machine') also has The Six Million Swindle , and Power and Propaganda in American Politics and Foreign Affairs . VHO at one time had App's Holocaust.. in Perspective' (1980), but seem to have removed all App material. App seems also to have written Ravishing the Conquered Women of Europe ]

Air photo interpretation site by John Ball

[with audio-visual aids, detailed coloured maps, photos, very elaborately done. Detailed list of camps from Auschwitz to Treblinka; also such events (or non-events) as Babi Yar. Important revisionist source for the German eastern front: the thrust is that many claimed massacres are frauds (or perpetrated by the Soviet Union), and that this is provable by forensic methods including air photos. Some technical material. Also in Swedish, German]

Barnes Review

in memory of Harry Elmer Barnes. [(There's also a different small site called the 'memory hole', and perhaps others, too.) WW2 revisionist. Apparently this is Willis Carto's site. It has back-number information. The layout of this site is not (or was not) helpful—you couldn't tell what's there without clicking.]

Blacks and Jews (blacksandjews.com has vanished. However this site, not an official Black Muslim US site, Advertises the books The Secret Relationship Between Blacks and Jews ; Prof Tony Martin (Wellesley College) and his book The Jewish Onslaught ; and actual quotations from Louis Farrakhan, contrasted with misrepresentations of him. Also material on Spielberg's film Amistrad . Not holocaust revisionist, except in the sense that it shifts the ground by referring only to the black slavery holocaust. Estimates here are of the order of 100 million deaths—which sounds to me like an exaggeration.]
Joaquin Bochaca's El Mito de los Seis Millones

[Spanish revisionist book, apparently first published in 1979, possibly in South America. The Internet version is in two parts. The bibliography and endnotes (with rather numerous scanner and other errors) show the sources are almost entirely American, British, French, and German, though there are Spanish notes added by 'N. del A.' The Internet version appears to be unedited; the latest dated note is 1977, or 1978 if you count one Spanish article.
Bochaca's book appears to be a compilation from App, Barnes, Butz, and others—for example, the section 'LOS DERECHOS DE LA ARITMETICA' seems based largely on Did Six Million Really Die? . Since Bochaca had also translated works from French, Italian, and English, I infer he is or was primarily a translator and compiler. Given the date, unsurprisingly there's no mention of Zündel. I'm told there is no material in this book relevant to the Spanish Civil War, Catholicism, Opus Dei, and South America.]
Arthur Butz [Modest site with ad for his book. He doesn't want his book available on Internet. And several of his articles: This displays an index; select vk.html and detect.html for Butz on gas cellars in Auschwitz/Birkenau]
CODOH ['Committee for Open Debate on the Holocaust'. Bradley R. Smith's site, with Quixotic imagery and biog info. Rearranged 2000; includes a top 10 (Click What's new, What's hot), all his 1990s campus promotion ads (easier to find in text-only mode), and a Reader Commentary/BBS section with civility requested (if they get it working). CODOH offered $250,000 to anyone arranging a prime time TV debate of ADL with CODOH. Huge list of authors—David Irving, Germar Rudolf, Friedrich Berg, Peter Hayes, Carlos W Porter, Russ Granata, Mark Weber. Stäglich: Auschwitz: a Judge Looks at the Evidence . Has Faurisson's 'Witnesses to the gas chambers of Auschwitz' with account of first (1985) Zündel trial. Their mag The Revisionist is now partly online; if they feel inclined to scan and do OCR, presumably more will follow. Also has list of other links, site and web searchers. NB Bradley F Smith also writes or wrote on the Second World War, but is a different Bradley Smith]
CRTH [Campaign for Radical Truth in History. Michael A Hoffman II's site. Maltreatment of whites, crits of modern news media, notably failure to comment on people like Armand Hammer, in addition to Revisionism. He's a Catholic ex-journalist, sacked I think for his views, after a campaign by 'a Jewish doctor'. Reputedly with about ten kids. (NB Othodox Judaism also opposes contraception, though virtually no publicity is given to this fact). Section on Talmud based on I B Pranaitis, but Hoffman has been reading the Talmud and is about to publish, or has published, better-researched material. Mail-order sales]
Elias Davidsson Dark Web pages of Zionism

[Iceland-based site which is larger than first appears. Selected articles, book reviews and extracts, including a 'Holocaust' section]
Einsatzgruppen [Revisionist subsites include: Rassinier Chs 13 & 14 of 'Drama of the European Jews' (Ohlendorf figures prominently), 'The Case of the Einsatzgruppen' from 'Did Six Million..?', Garaudy on 'Founding Myths of Zionism' Part 2 ]
Norman Finkelstein [Promoting his book The Holocaust Industry . Not strictly revisionist—Finkelstein accepts such things as gas chambers and exceptional treatment of the Jews. Published (at least in the UK) by Verso Books, which was founded by Dr Robin Blackburn, supposedly a left-winger. The book is not strictly revisionist—its main interest is facts and figures relating to the moneys obtained, and their destinations—generally within close control of Jews with no connection to WW2, not to its generally-assumed recipients. Refers to Butz as a nonentity (so what is Finkelstein?) An interesting halfway stage to revisionism, possibly intended as a warning to stop, to help damp down criticisms of 'Jews', in case these should become stronger. Widely ignored and unreviewed in the USA so far—see David Irving's site for frequently-updated reports on this US censorship. There is an Internet online version, with some scanner errors, though I would guess without copyright permission, which therefore I feel unable to link to.]
Giwer's World [Matt Giwer's site, with WW2 section, with some material from memories of the time supplemented by research: Churchill, Roosevelt, Poland being less innocent than usually thought, Belgium, 'gas chambers' and Nuremberg, dubious photos, and many other things, including US Civil War revisionism. Some spelling errors. Giwer said plaintively his site hasn't yet been banned—if you run censorware, perhaps you could put him out of his misery?]
GOAL ['God Affirmed Order in Love'. Looking again, I find it's 'God's Order Affirmed in Love' and not 'GAOL', as I'd thought. Christian anti-Jewish site with some US style things, e.g. opposed to interest on money. Survivor is an anti-Holocaust allegory]
Russ Granata's site [Like VHO, an international site, with articles in German

and French

. An interesting subsite is by Jürgen Graf

, a Swiss revisionist who apparently was forced to move to Iran in about December 2000. Carlo Mattogno's work

is another interesting subsite.]
Historical Review Press ['The revisionist publisher of the world'. Large site, in England; at least 40Mb, all put together with Microsoft Front Page. Includes Did Six Million Really Die? , a 1938 book on Jewish Ritual Murder, several translations of Mein Kampf , Rosenberg's The Myth of the 20th Century in English (including the phrase 'final solution'—nothing to do with Jews), Henry Ford's The International Jew , what seems to be the full version of Leuchter's Report , and Stoddard's The Rising Tide of Color, dated 1922, the first whites-v-the-rest book known to me—though it is based entirely on population figures as affected by medical technology, and says nothing about Jews behind the scenes, notably in the 'Great War'. Much rather scrappy material (including phoney race crime statistics). Despite the implied claim in the title, this site is mostly anti-Jewish and has little general historical revision material. Not for my taste an attractive site]
Greg Raven's IHR ['Institute for Historical Review'. Seems to have reappeared after moves through several sites. Started in 1980 I think, somewhat pre-Internet with a printed journal, books, and leaflets. Most of their articles have been scanned and uploaded. Site searcher; about 400 files. A film with the actor who insists he isn't Spock featured some IHR booklets.
Journal of Historical Review back numbers are on the VHO website.


Beirut 2001.
Conference arranged by a Swiss group, Verité et Justice, in Lebanon, March 31-April 3rd 2001. I don't know whether this group has much substantial existence. At any rate, I couldn't find a website. Jürgen Graf is its head (I'm told) and presumably operates from Iran.—NEW: 23 March 2001: a report said: '"This conference will not be held in Beirut," Prime Minister Rafik Hariri..' (after a cabinet meeting!) Edward Said appears to have signed a letter 'condemning' the meeting—though there's some doubt as he claimed afterwards he never saw the text.
[Robert Faurisson's talk, prepared for the banned conference, is available on my site, in two languages. Click for

English or

Français ]
Their May 2000 online conference (in fact, more a set of monologues) appears to have had, disappointingly, only a few thousand hits. However, I recommend it as a chance to hear Faurisson (interesting on the philosophy of scientific method: he suggests that translating into a foreign language forces understanding of texts; and insists on evidence—photos of gas chambers, in his case), and Arthur Butz (who was for a time written-up charmingly as 'Author Butz'), with Germar Rudolf, Senator McCloskey (Korea, Jews and the Liberty , the ADL and behind-the-scenes operations), and a number of others. In real audio format—save on disk for reference.]
David Irving's

Focal Point Press site [Massive site (something like 100 Mb) designed, scanned and programmed personally by Irving. Shows signs of its start as an outlet for his books; increasingly devoted to his appeal against the outcome of his lawsuit against Viking/Penguin and Deborah Lipstadt. Large numbers of press 'cuttings' downloaded from newspapers' own sites, on the Second World War, and his legal case, its aftermath, and Jewish-related matters.
Free downloads of many of his books are on his site, on the theory that printed book sales will ultimately be increased: they have better illustrations and are more pleasant to read and handle. (My account of the trial, Irving v Lipstadt , includes a list of his books. Incidentally, not one of his titles is legally in print in any language in any country in the world).
Irving's appeal will be heard at the English Court of Appeal; it is directed to begin on June 11th 2001 before Lord Justice Pill, and appears to be scheduled for five days in total. This will be open the public (I checked carefully). '.. it will become the subject of the most intense media glare. TV cameras, transmitters, teams, photographers, will line up .. outside the Law Courts.' Currently Irving is in the USA; Click here to see his personal fundraising site.
www.davidirving.com, www.davidirving.net and www.davidirving.org are registered in Cleveland, Ohio, and link to the Institute for Historical Review, presumably with Irving's permission.]

Radio Islam [The (slow-loading) English section of this multi-language site. 'Radio' refers only to the broadcasting-over-Internet aspect; I don't think there's a radio station. Essentially Palestinian, and rather anti-American. Interesting list of Jews in US government. Sections on the Holocaust. This is run by or on behalf of Ahmed Rami, who was briefly mentioned, with of course no detail, near the end of the Irving libel trial. I don't think there are any Arabic sites; very likely they would be crushed]









Italy. Associazione per il Revisionismo Storico

is a new Italian site.

Fred Leuchter's site

[linked from David Irving's. When I tried it, it was unobtainable. An interesting section is Leuchter on Jean-Claude Pressac (the fourth Leuchter report) which however is arranged in many small fragments]

Peter Myers' (Australian) site

has interesting things to say on Zionism, Christianity and religions generally, Japan, the Protocols of Zion (which Myers argues are genuine), Israel, the 'Jewish campaign to demolish the Dome of the Rock', and free trade/one world. Dislikes William Pierce. Not I think strictly a holocaust or Second World War revisionist.

National Vanguard

Free Speech subsite, largely by Dr William Pierce. [A 'monthly illustrated newsletter.. America's only uncensored patriotic [i.e. supposedly patriotic of USA] radio program..'. Has some reprint material, including (scroll down to Vol I, No. 6) Benjamin Freedman on Jews in Germany before WW2 (which I've also put onto my site). The layout isn't very good, in my opinion; article titles are given, without summary of contents. I thought there was the piece I referred to, on Churchill, in here somewhere, but there isn't. In June 2000, there were 240 articles here.]

Konstantinos 'Kosta' Plevris

[Greek legal man, who has written long works on Jews and Europe and Greece. The above link is an interview - biographical & bibliographical information. ADDED MAR 2013.
The original, longer, interview in English is here, in the Barnes Review]

Carlos W. Porter [Translator. Intends to reproduce the Nuremberg documents in scanned-in form, i.e. as images, not in type or print. Mainly seems to intend focussing on Soviet or Russian frauds and fakes—nothing seems planned on Poland, despite its importance. Newish. NB Site URL changed mid-April 2000]
Qué nos ocultan

[Spanish site with up-to-the-minute Spanish language material, mostly, as far as I know, on the Holohoax. ADDED AUG 2015]

www.revisionism.com [Links to the Institute for Historical Review, which presumably bought this and related domain names. Includes in its video archives a downloadable video of David Cole talkin with Piper at Auschwitz. 20 Mb—a bit long!]
Ukrainian Archive

ukar.org seems to have been removed; I can't find another URL address where it may have been moved to.
[Not archives in a strict sense; items related, some tenuously, to Ukraine, the Soviet Union, and the Second World War. Demjanjuk and his trial, perceptions of Ukrainians—including Life mag photo lie, Jews in Ukraine, Einsatzgruppen... I think this site is the one with a diary of a girl at Stalingrad, in Anne Frank style. Also huge frauds—billions of dollars—mostly or entirely by Jews.]

Usenet [The link is to Deja Com. Search for people locked in virtual combat with other disembodied voices. Alt.revisionism is interestingly controversial, with expressions like holohoax, hollowcost, holocau$t, holylocust. ASMarques

was a frequent contributor, but (Jan 2000) says he no longer participates. Slade Farney is another interesting contributor.
Bulletin Boards on individual sites —John Ball, and CODOH, have these—may have interesting specialised debates, but are of course smaller scale.]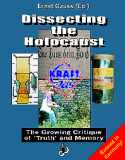 V.H.O.

[What I take to be a Flemish Belgian site, Vrij Historisch Onderzoek, = Free Historical Enquiry. More than a thousand authors, many of them German or French. Some connection with Germar Rudolf—in fact, I think it's his site. Says it has 4,500 files searchable with its new site searcher. In mid-Feb 450 or so photos were put up relating to the Irving trial/ Auschwitz/Birkenau. The layout unfortunately isn't very easy to get to grips with; as a result this site is probably underrated. Has extract from Udo Walendy's fake photo evidence, plus e.g. IHR articles, Pearl Harbor, Anne Frank, French Revolution, Japan, Morgenthau, reviews of Arno Mayer, Christianity, Australia, Canada, Islam, Hollywood, Arthur Butz, Faurisson, unpublished letters e.g. to Christopher Hitchens, etc etc. Mail order sales.
Dissecting the Holocaust edited under a pseudonym by G Rudolf, is an anthology of I think 18 authors including Ball, Berg, Faurisson, Walendy and Mark Weber, planned for Autumn 2000. It won't be published by Penguin! The subtitle, The Growing Critique of ' Truth' and Memory is evidently aimed against Deborah Lipstadt's book.]

Wannsee [This is a revisionist article, 'Anatomy of a Fabrication' by J P Ney]
Be Wise ['Be wise as serpents' to the vast right wing conspiracy. I hope their history is better than their natural history. Christian-based site. Confusing layout; seems to be little original work]
Zündelsite

[Was based in Canada. One of the first, if not the first, revisionist site; of considerable importance in revisionism and in Internet history. Has Faurisson's How Many Deaths at Auschwitz? (incredible shrinking holocaust ©MHII). And the full text of 'Did Six Million Really Die?' (part 2 has an overview of the figures). Leuchter Report, Rudolf Report. Also court transcripts of 2nd trial of Zündel, though not the first. These transcripts were hard to find—this was a sprawling and not very well-designed site—but recently the layout has been improved. Sends e-mails, edited by Ingrid Rimland, to subscribers. Rimland secretly married Zündel in early 2000]