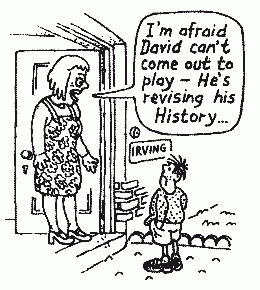 WHIRLWIND ROMANCE FOR HOLOCAUST AUTHOR
Bride-to-be Deborah Lipstadt, from Georgia, USA, announced her forthcoming marriage to British author David Irving today. Irving nibbled a kosher vinegar-soaked gherkin dipped in preserved chicken fat, which he said was "delicious". He made no denial when Deborah said "His name may be David, but, believe me, he is Goliath!" The couple are planning to rebuild the kitchen of Irving's Mayfair apartment to include ritual dairy equipment, and to amalgamate their papers into a Second World War research center. Irving, who has a reputation for flirting with younger women, quipped "Now I'm off to beddie with Debbie!"

PROFESSOR IN NEW WITNESSES SHOCK
Professor Robert van Pelt said he was surprised by a new twist in the Irving/Penguin Books case, when it was announced that 546,439 Holocaust survivors would be called as witnesses. It is intended that witnesses will be shipped into court in groups of 25 on an elevator hoist the size of a table, and on cross-examination will withdraw all the assertions they have made in the past. But, outside, they will announce that millions of people died in the hot air of the small courtroom. Van Pelt said: "In the search for truth, no stones must be left unturned—unless they are in Auschwitz."

FAMOUS QC EXPELLED IN DISGRACE
In a ceremony dating from the Middle Ages, noted barrister Richard Rampton was yesterday expelled for life from Britain's legal profession after charges of Grandiloquentia cum nulla substantia and extra pecuniarius horrendis were made against him. A kangaroo court composed of men dressed as penguins produced their documents at the last possible moment, according to long-established tradition. Rampton's black gown and horsehair wig were burnt at a symbolic stake, and Latin oaths were chanted. It is reported that he is considering taking to the London comedy circuit in a double act with author David Irving.

Yawns as obscure case continues
A law case, forgotten by almost everyone, still continues, largely unnoticed. Davod Irvine is believed to be an author who sells few books, and who is living somewhere in London during a libel action. He is not to be confused with Clifford Irving, author of a notorious book on recluse Howard Hughes, which was proven a fraud some decades ago, when Hughes himself dramatically denounced it in a telephone transmission. Yesterday Mr Irvin called a press conference, but nobody attended. David Irven's case created something of a stir when it started, some time ago, but most people have forgotten it now.