A. H. Lane (Arthur Henry Lane) The Alien Menace. A Statement of the Case
First Published: 1928. Enlarged Edition: 1934 Review: 22 August 2017
---

One of the small number of books hostile to Jews published in Britain between the wars. Deals with the period from the founding of the so-called "Labour" Party, to Europe after the 'Great War'. Although sound enough, it includes some common errors, which weaken his case, and persist today. Not therefore perfect; but filled with detail.
---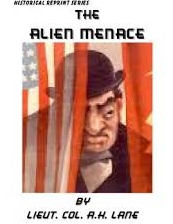 Arthur Henry Lane (1868-1938) was essentially a vet, from a time when horses were the main transporters of men and materiel where there were no railways. As far as I can deduce from Wikipedia, Lane took part in removal of horse waste, and removing horses from Boers, in about 1900, and during the 'Great War'. [I've just noticed a comment from Jan Lamprecht, to the effect that Anglo-Jewish wars against the Boers were part of the anti-white movement, which I admit I was too dim to notice.]

A few points of comparison: three utterly Jew-naive people were H G Wells (born a little before him, in 1866); Bertrand Russell (born a little after, in 1872) and J M Keynes (1883-1946), fifteen years younger. Arnold Leese was ten years younger, Archibald Maule Ramsay about 25 years younger. Lane knew Ramsay (who wrote Land of dope and jewry/ land that once was free/ all the Jewboys praise thee/ as they plunder thee./ Poorer still and poorer grow thy true born sons...) Here's my formatted version of Ramsay's Nameless War. Ramsay had longer historical awareness than Lane, back to Cromwell, but never integrated Christianity with his findings on Jews: his post-Munich Mr. Chamberlain was Burnt in Effigy in Moscow leaflet was issued by 'MILITANT CHRISTIAN PATRIOTS'.

When Queen Victoria died, Lane was in his early 30s. The Empire must have had a profound effect on him; he regarded anyone as alien who 'did not serve in the British Empire or its Allies in the Great War.' Lord Sydenham of Combe supplied his foreword; Combe was a colonial administrator, but, presumably, not concerned with money or assets. At that time, it remained fashionable to associate aristocrats with book publicity.

Lane is a perfect example of the type described by Hilaire Belloc: The Great War brought thousands upon thousands of educated men (who took up public duties as temporary officials) up against the staggering secret they had never suspected—the complete control exercised over things absolutely necessary to the nation's survival by half a dozen Jews, who were completely indifferent as to whether we or the enemy should emerge alive from the struggle.

Lane, as with many opponents of Jews, was unable to work out any united front against their simple secret cunning crushing uniformity. Lane regarded Germany as an evil opponent—this was years before the theft of European state papers by the USA was well known—and distrusted the Irish after 'they', treated as a unit, got their supposed independence; Lane was not very aware of Jews in Ireland, though of course he was aware of their name-changing fraudulence. Lane knew of Schiff and other Jew financiers, but I think had no theory of the gold standard, knew nothing of the Fed, and neglected to identify the part of the Empire which was Jew-controlled and not British. He also hated 'Communism' which he thought, like many others, was a belief system of its own, rather than just a smokescreen for Jewish supremacists. Jews committing atrocities were called 'anarchists' before 1917, but changed their name to 'Communists' after the Jewish coup d'état, as Lane might have noticed.

The strength of his book isn't really theoretical, but observational—he describes various events and structures, notably the so-called "Labour Party" (he always puts "Labour Party" in satire quote marks). He is acute on the BBC, on Jewish control of films, on Jew name-changing, and Jew crimes. Much of this, unfortunately, is just as applicable, and much more so, today.

I'll try to list Lane's objections to Jews (and others; but mostly Jews), inventing my own categories:–
NUMBERS, PARASITISM, DANGER, COLLUSION BY OFFICIALS. I 'The Alien Problem' is an overview, including Parliament and Trade, much controlled by Jews. II 'Number of Aliens and How they Get Here' includes wrong official figures. III 'Over-Population and Emigration' makes the case for expelling aliens. IV 'Unemployment' lists ways in which Britons are discriminated against. V 'Public Health' includes housing (though not rents and money policy), hereditary diseases, and Galton. VII 'The Cost of the Alien' has 'Labour' Party ministers and evasion of costs. And material on steamships, presumably Jewish-run. And supplanting British labour. Appendix I on 'Alien Immigration includes fake students, and fake official figures.
CRIME, MORAL DEFECTS, CROOKS, LAW CASES. Chapters VI Appendices IV ('Alien Crooks') and V ('Cases in the Courts') and VII provide a lot of newspaper-style information—including Jews who place big orders, ship them overseas, the disappear—Jan Lamprecht mentions a modern case, in South Africa.
ALIENS IN MEDIA AND EDUCATION. Chapters VIII (Films), IX (BBC) have lists of names, and such events as harming the nascent British film industry, anti-British films, the BBC's Jewish foundation, and the BBC censoring Nesta Webster. Chapter XV (Education) looks at the LSE, in particular, as an entry-point for Jews, and lists professors in many subjects, generally history, sociology, psychology and other subjects ripe for invasion by Frankfurt-School types. (I was interested to see Peierls, made a physics professor, who later became part of the atom frauds). Appendix II has an instructive piece on censorship, giving a letter from a US Jewish group requesting that a book by Lothrop Stoddard should be ignored. Henry Ford's 1920-1922 four books on world-Jewry, and his 1927 recantation are here.
ALIENS AND POLITICS IN BRITAIN. The so-called "Labour Party" (and "Independent Labour Party") is mentioned throughout. Lane likes the English Constitution, the Monarch/ House of Lords including Church of England/ House of Commons/ Party System, despite its precariousness and liability to money penetration. Chapter XVII 'Naturalisation' makes suggestions. There are many special issues: changes of name, infiltration, secrecy, forcing of unwanted immigration, secret conferences, and the subverting of aristocracies. Appendix III joins Marx, Engels, and the Hohenzollerns; Lane distrusted Germans.
Appendix IV discusses aliens and name-changing, often to Scotch or Irish names. 'A census which returns the children of Aliens as British is misleading even if the children were born here.' Think perhaps of Ken Livingstone, George Galloway, Sutherland of Goldman-Sachs, Denis MacShane the Jew from Poland who helped Muslims rape white girls in Rotherham ...
WORLD POLITICS. Chapters X (Aliens and Revolution), XI (The Hidden Hand), XII (Aliens in Politics), XIII (Aliens in Ireland), and of course XVI (Alien Control in Palestine) help underline the infiltration, or perhaps just exposure, of the Bank of England and other groups. For example, there's a long account of the 'Rutenberg Monopoly' and a 1921 monopoly in Palestine. And an account of Dead Sea Concessions.
MONEY. XIV (Aliens in Industry and Finance) has many names of Jews (and Nesta Webster's books). Chapter XVIII (War Debts) is a depressing list of losses and payments following the 'Great War'. Well worth reading as an antidote to the mythology of 'heroism', and survey of the sordidness of industrialised war and its and its furtive secrets of money and equipment and propaganda.
SUGGESTED ACTION. Lane discusses VI Leglislation in and since 1914, and VII Draft Act of Parliament - Aliens Restrictions and Status. And XIX What Should Be Done.

This is not a cheering book; following Jewish impulses, there's nothing to suggest any effective work might be done either in Britain or overseas. The British Empire fell in due course (and the French Empire), assets to be taken up presumably by triumphant Jews in the USA. The impression left with me is that new theories and systems are needed, a mental revolution of the power of Newton or Wallace/Darwin.