Monday, August 11th, 2008 | Author: News Team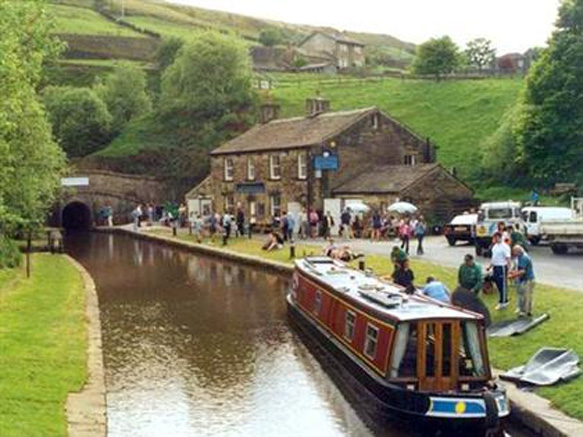 It is reported in the media that Britain's waterways could be about to witness a major revival – one, interestingly enough, in line with British nationalist proposals first "floated" at least two decades ago. The combination of lengthening traffic jams, rising fuel prices and pollution reduction pressures are awakening interest in the possibility of transporting bulk goods by barge along Britain's extensive network of canals and other waterways. Apparently shipping and barge companies have received more inquiries about the possibility of transporting freight by water in the past 18 months than they have had in 20 years. Indeed, some companies that have traditionally used roads are now appointing managers to mastermind their expansion on to water.
To show just how seriously some companies are treating the proposal, Eddie Stobart, possibly the country's biggest road-haulage firm, has invested in a port on the Manchester Ship Canal and plans, it is claimed, to expand its waterways routes. According to a company spokesperson: "It might seem odd that one of the goals of Britain's biggest branded truck company is to get trucks off the road, but that is exactly what we are trying to do. It seems ironic that we are now looking to revive more traditional modes of transport, but new pressures such as congestion, rising fuel prices and the environment mean the old methods are becoming viable again."
In addition, it is further claimed that several major companies, including a number of the supermarket cartels, have already switched thousands of tons of freight on to ships and barges. And, as unlikely as it may seem, the international courier firm DHL is said to be looking to move urgent mail from central London to Heathrow by speedboat to avoid road congestion in the capital.
As regular visitors to this site will know, Land & People are rightfully critical of the supermarket cartels – particularly in respect of their relationship with our farming community and the adverse impact they have on our High Streets – however the decision by Tesco to transport its New World wine by sea and water, to its bottling plant at Irlam on the Manchester Ship Canal, deserves credit. The scheme, which involves three journeys a week to transport an estimated 600,000 litres of wine along a 40-mile stretch of the canal from Liverpool to Manchester, takes 50 lorries off the roads each week. So successful has this initiative been that we now learn that they plan to expand the scheme, saving an estimated 3,500 lorry movements by the end of the year.
Yet despite the benefits of utilising Britain's waterways in this way, industry experts complain further development is being frustrated by a lack of planning and imagination by the Government, local authorities and British Waterways! One would have imagined that the Labour EU regime at Westminster would be absolutely delighted at the possibility of getting so many polluting lorry-loads off our roads.
As an example of Government indifference we learn that a proposal to build a commercial wharf at Staines, just a few miles from Heathrow, to enable cargo to be transferred down the Thames from Tilbury docks or the proposed Thames Gateway port, thus saving tens of thousands of lorry journeys around the M25, has not been pursued by Labour's Environment Agency. The plan would have enabled bulk cargoes to have been transfered from barges at Staines and then shipped as rail freight to Wales or the Westcountry – taking a huge burden off our roads.
The problem for British Waterways appears to be that it sees itself as a "heritage and leisure organisation" – not a water-borne freight handling concern. Land & People suggests that they need to revaluate their role – perhaps modelling themselves on their "continental cousins" in countries such as Holland and Belgium, where the conveyance of bulk freight is at least as important as the leisure industry.
A central plank of British National Party transport policy involves the redevelopment of our national rail and waterways networks for the express purpose of taking as much freight off our roads as possible – not only is this good from an environmental standpoint, but – more often than not – it makes good commercial sense as well!
Category: Canals, Rail, Transport | Leave a Comment